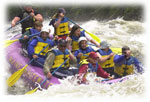 Maine Whitewater runs white water rafting trips daily on the Kennebec, Dead and Penobscot Rivers. All three rivers are renowned for their unique beauty and truly exceptional white water. Each one also possesses a unique "personality".
Below are brief overviews of each river followed by links that take you to basic trip pricing and lodging-rafting trips and rates.

Kennebec River Whitewater Rafting

From the start of the run at Harris Station Dam, the Kennebec river quickly becomes a fast-paced, big-water gorge run. The first 4 miles of the run contain numerous class IV rapids such as "Big Mama," "Whitewasher," and "Magic Falls."

Following the Gorge section are 9 more miles of class II and III whitewater run amidst a beautiful wilderness setting. In-between the two sections we serve you lunch at Moxie Stream.

Kennebec River Trips and Pricing

Dead River Whitewater Rafting

In contrast to the Kennebec, the Dead River is 16-miles of continuous class IV whitewater in a very remote wilderness setting. Because of shallow lake that is above the dam, "The Dead" has fewer dam releases scheduled than the Kennebec or Penobscot River.

Its largest releases are typically in the spring and fall (and we DO mean LARGE). As a result, there are fewer trip dates available for this amazing river. Fortunately, we now offer "moderate-level" summer release trips on the "The Dead" as well.

No matter what, it's best to sign up as early as possible for both high, and summer release Dead River trips. The number of slots is so limited.

Penobscot River Whitewater Rafting

Flowing though spectacular Baxter State Park — amidst awesome Mt. Katahdin— the "West Branch" is the ultimate whitewater experience. This river contains numerous powerful class III, IV, and V rapids, and is run in two sections.

The upper section includes the imposing "Ripogenus Gorge." The Gorge contains two class V rapids; "Exterminator" and "The Crib Works," as well as many other class III and IV rapids. The lower section contains numerous technical class III and IV rapids such as "Abol Falls", "Nesowadnehunk Falls," and "Pockwockamus Falls". This is truly an extremely challenging and rewarding river trip!

Penobscot River Trips and Pricing