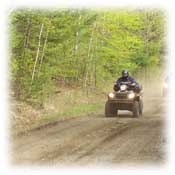 ATV in Maine with Maine Whitewater - ATV Rentals, Cabin Rentals, Direct Trail Access, Extensive Trail System, Restaurant & Pub.
Maine Whitewater' base complex is located in the upper Kennebec Valley Region of Maine. Known for having "the best ATV trail system in the east". The region also contains some of the most beautiful and pristine wilderness in the US.
Best of all, the Maine Whitewater base complex in Bingham, Maine, is located on Maine's ATV trail system. This system is made up of hundreds of miles of designated trails - stretching to all the way to Canada. Our portion extends north to "The Forks", Jackman (and into Canada), west to Rangeley Lakes, and northeast to Moosehead Lake (and Katahdin). This particular trail segment, and many feeder trails, provide hundreds of miles of open terrain, incredible scenery, and awesome riding for all skill levels.
There are numerous options for single and multi-day loop trips (beginning and ending at the Maine Whitewater base complex). And should you rent one of our cozy log cabins on the Kennebec River (see below), you will be able to return from any trip, and park your ATV right at your front door! Maine Whitewater is simply THE best option for a Maine ATV adventure vacation!

NOTE: The ATV Illustrated video is a flash video that plays automatically from their website. Thus, your Flash player plugin needs to be enabled if the video doesn't play on your browser. Also, there is a 30-second ATV commercial at the beginning of the video.