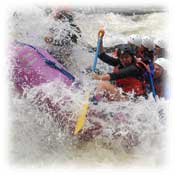 Maine Whitewater offers you two ways to plan a white water rafting trip. First, you can set up a basic trips that involves the cost of rafting only. Overnight accommodations are your responsibility.
The second approach is inclusive lodging and rafting trips. With lodging-rafting package trips, we do all the organizing for you. Thus, you waste no time, you are closer to the morning meeting place, and you save money!
Our 55-acre plus base resort complex has basic tent camping, platform tent camping, RV sites (no electric service), and Maine cabins rentals (with FULL amenities - including Wi-Fi) that can accommodate from 2 - 48 people. And even if our base lodge is full, we still can arrange comfortable lodging arrangements. This is because we partner with all of the best local Bed & Breakfasts, Inns and Motels.
To view our lodging-rafting packages, click here. To view basic white water rafting trips and prices click here (then pick the river(s) you're interested in).
The bottom line is this... No matter what river(s) you want to paddle, or how you want to set up your stay, we have an optimum "money saving" package available for you!
For questions regarding various trip packages, call us in the US or Canada at 800-345-6246 or 207-672-4814. You can also fax us at 207-672-4176 or send us an email!