Maine Whitewater's massive base complex is located in the upper Kennebec Valley Region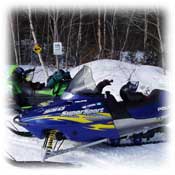 of Maine; known for "the best snowmobiling in theeast". We receive an annual snowfall of approximately 10 feet, and our region contains some of the most beautiful and pristinewilderness in all of the United States.
Our base complex includes ample parking, a restaurant, a lounge, game rooms, and log cabin lodging (for between 4 and 24). We are also located right "on" Maine's 12,000 mile Interconnecting Trail System (the ITS 87, to be exact). From our location, groomed trails extend north to the Forks and Jackman (and on to Canada), west to Rangeley Lakes, and northeast to Moosehead Lake (and Katahdin). From our location, there are hundreds and hundreds of miles of open terrain, incredible scenery, and awesome riding for all skill levels.
Numerous options for single and multi-day loop trips exist; all beginning and ending at our base complex. Should you also decide to rent one of our cozy log cabins on the Kennebec River , you will return from your trip, and park your sled right at your front door!


Member; Maine Snowmobile Association
SNOWMOBILE AND EQUIPMENT RENTALS
Advanced reservations are required for sled rentals, cabins and guided trips. Make your reservation early to insure availability of snowmobiles, cabins and guides! Minimum age to rent a snowmobile is 21 years, minimum age to operate a snowmobile is 18 years, minimum age to ride on a snowmobile with an adult is 10 years old.

* Helmets, trail maps, and a full tank of gas are included with sled rental.
* Sleds must be returned with a full tank of gas.
* Top of the line apparel can be rented for $30 per person per day (bibs, jacket, boots, and gloves).
* A $30 per hour fee will be charged for late returns
NOTES: A $1,000 deposit per sled is required for rentals. We will hold the deposit on any major credit card. Also, everyone renting a snowmobile must understand and sign a release form as well as a snowmobile rental contract. All renters are responsible for any damage done to a snowmobile.
Click here to view cabin lodging information and pictures
USE OF PERSONAL SNOWMOBILES
We welcome those who wish to use their own sleds. However, ALL personally-owned snowmobiles MUST be registered with the Maine Department of Fisheries and Wildlife (this applies to Maine residents as well as non-residents). Click here for the State of Maine's website for both resident and non-resident online snowmobile registration.
Personal snowmobiles must also be operated in accordance with the rules and laws established by the state of Maine and the Maine Dept of Inland Fisheries and Wildlife. Click Here to review "Maine Snowmobiling Laws and Rules".
For current information on any portion of Maine's ITS snowmobiling trail, and trail conditions, we recommend you review the sites below: