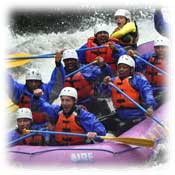 Maine Whitewater offers the best in Maine adventure vacations - including Maine white-water rafting, ATV riding, snowmobiling in vacation packages of all types. We have rental cabins, standard tent sites, platform tent sites and RV camping sites.
From April through October we run Maine river rafting trips down the Kennebec river, the Dead river and Penobscot river. Maine Whitewater Rafting trips are perfect for individuals, couples, friends, families, corporate groups, youth groups and scout groups. No experience is necessary and Maine Whitewater supplies everything needed for your Maine rafting, ATV riding, fishing or snowmobiling adventure vacation.
Our massive 55-acre camping and resort complex is the largest in Maine and is located right "ON" the Kennebec River in Bingham, Maine (still in the great Maine woods, and still less than 30 minutes from civilization). Maine Whitewater's campground and resort facility includes a restaurant and pub, private indoor changing facilities, wash rooms, hot showers, Wi-Fi and full RV camping services (3 levels of power, water, and waste handling), And our Maine rental cabins have all the amenities of home, We also can set you up for hiking & biking, fly fishing trips, and can hang-out and use our volleyball courts, horseshoe pits.
To ensure maximum white water rafting fun, we use only the best rafting equipment and have he best "Registered Maine Whitewater Guides" in every raft . This is why you need no white water paddling experience! All you need is the desire to have fun, and a willingness to go for it!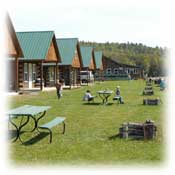 At the end of the day we gather in the base lodge and will show you slides of your Maine Whitewater rafting trip (which you can search and then purchase (securely) by clicking here). After this, you can enjoy great food and drink at "Patrick's Restaurant and Pub". You can also play pool, enjoy our game room, play volleyball, enjoy a camp fire or photograph Moose on a Moose Safari. If you want to take a walk after dinner, you'll also find beautiful hiking, biking and fly fishing along the banks of the Kennebec River's "Rainbow Alley".
So whether it's the thrill of white water rafting, inflatable kayaking, a moose safari, hiking, biking, fishing, ATV riding, snowmobiling or just vacationing in Maine, Maine Whitewater outfitter company that has EVERYTHING you need! Call us toll free in the U.S. and Canada at 1-800-345-6246 or send us an email !
"See you in the Maine Outdoors" - Maine Whitewater!